Kicking back in comfort doesn't need to cost the Earth, as the best gaming chair deals go a long way to prove. You can find models packed with premium features and stellar build quality for surprisingly affordable rates this February, as our top picks below show. 
Some seats may lack the name recognition of the best gaming chairs, however, you're sure to find something both functional and comfortable that's just right for you here. Scroll down below to find some exceptional savings and competitive low asking prices on seats that won't break the bank! 
If you're interested in forging a full setup for a competitive rate, then we recommend checking out our best cheap gaming monitors and best cheap gaming keyboards guides. We're also rounding up the best cheap gaming headsets as well, should you want some stellar audio quality at aggressive price points. 
The best cheap gaming chair deals in February 2022
There's no reason why you need to splash the cash to get something functional and comfortable, as these gaming chair deals prove. Below you'll find great picks for seats to last many, many hours of gaming on. 
Cheap gaming chair deals in the US
Cheap gaming chair deals in the UK
Where to find the best cheap gaming chair deals
Considering just how many cheap gaming chair deals are available online, we thought it best to round up where to find the best deals at major retailers, and what to expect from each. 
US retailers
UK retailers
Cheap gaming chair deals – top brands
While these brands don't necessarily make cheap gaming chair deals, you can still find regular discounts and make savings on more premium options here. 
Cheap gaming chair deals under $200
Cheap gaming chairs under $200 have proven themselves to be a suitable middle ground between budget and entry-level options. It's now entirely possible to enjoy a premium build quality and a suite of features for a more-than-fair rate in 2022. 
There are a few brands that you won't find in the cheap gaming chairs under $200 roundup, however; don't expect the likes of Secretlab or Razer to appear below. But that doesn't mean you can't find a stellar-looking, and functional, seat for gaming without breaking the bank. 
You ideally always want to look for a gaming chair that features steel frame construction and either high-density foam or bonded leather for a greater lifespan; these models are very much built to last.
We've had a lot of good things to say about the BraZen Puma in the past for its premium construction and ease of assembly. As far as cheap gaming chairs under $200 go, there really isn't much more that you can ask for from it for its modest $190 price tag. 
As with many other mid-range gaming chairs in this roundup, it's made of synthetic leather, but benefits from a mesh construction as opposed to an encompassing foam which makes it, ultimately, more comfortable than some more premium options you can get your hands on today. 
It's in the ease of the setup that this cheap gaming chair under $200 comes into its own, though, as we've definitely had our struggles when assembling much pricier models in the past. 
If you're looking for something sturdy and supportive that won't cost a bomb, then the BraZen Puma is hard to beat given all it offers.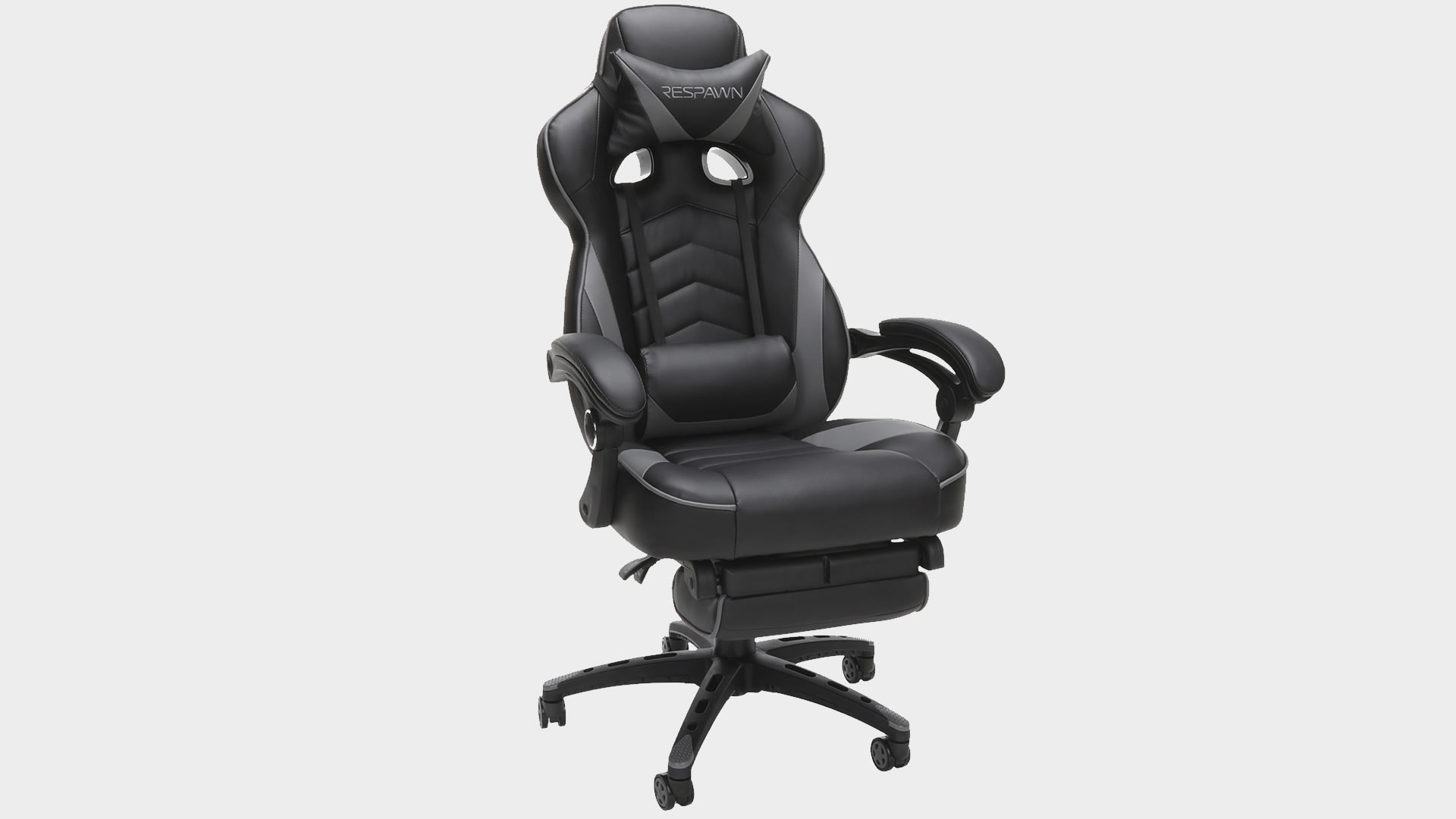 The Respawn 110 comes in at just under the $200 mark and offers functionality that some of the major players don't include, such as an adjustable footrest and further reclining functionality. What this means is that you can kick back in front of your setup no matter whether you're watching movies or gaming.
This gaming chair under $200 doubles as a fairly snazzy office chair too, with its understated visual design and bonded leather wrap-around. And while it's available in varying colors, the Respawn 110  tends to cut a decent figure regardless of its trim. 
What sets it apart from the competition is the 5-year warranty and support, so you're covered in case something goes wrong with your new chair.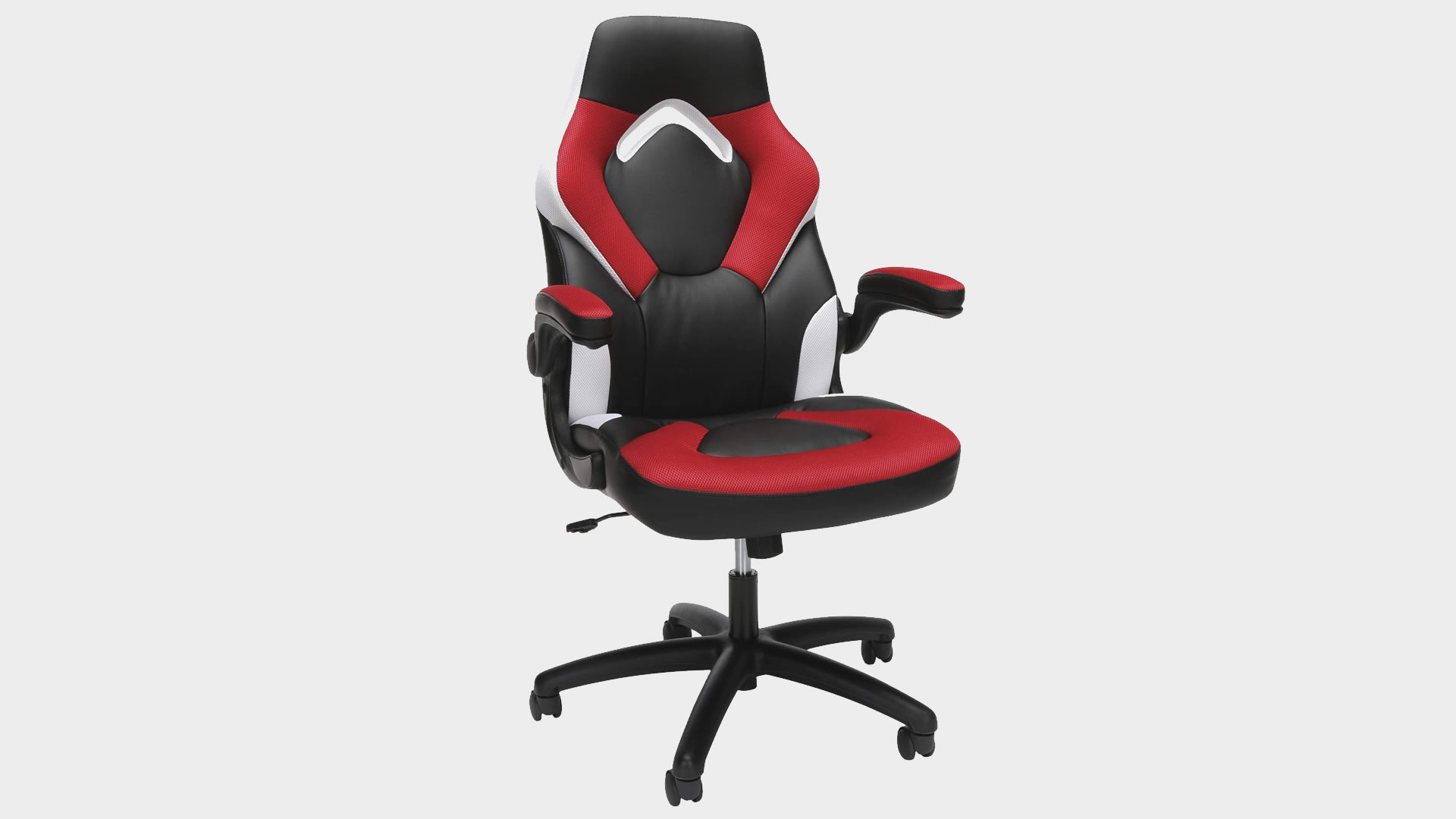 The OFM ESS marries up some striking visual design and overall solid build quality for one of the more consistent gaming chairs at the $125 mark. You've got all the functionality that you would expect to find, including adjustable lumbar support and a bonded leather wrap-around for a premium look and feel – not to mention a competitive price. 
While there are no standout features here, the OFM ESS is available in a vast array of colors in its rather clean-cut style, including red, black, blue, green, white, and more, so you have a great selection of styles to choose from to suit your home office or gaming setup.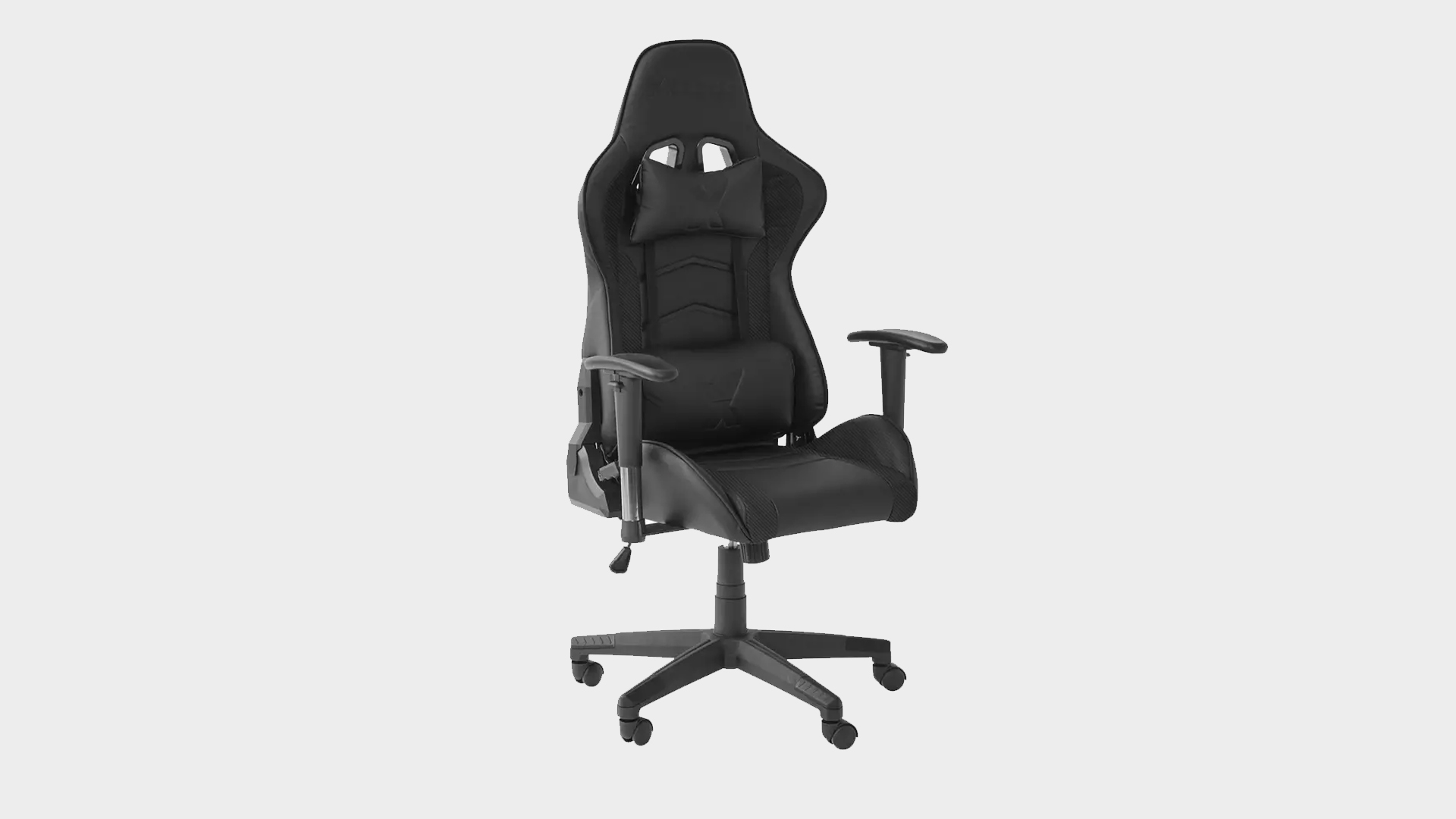 While the brand is more established for its rocking pedestal gaming chairs, as its name would imply, X Rocker's office-style Vortex model is a more traditional office-style unit aimed predominantly at Esports gamers and a teenage audience. This is achieved through the included high-density foam lumbar and headrest cushions which aid long play sessions. 
One small addition that we're fond of is the metal caster wheels, which means the chair should roll freely on both carpet and hardwood flooring alike, which we cannot say for certain when it comes to more expensive gaming chairs that we've used this year. What's more, the X Rocker Vortex has a 160-degree reclining angle, so you can kick back further than most would allow.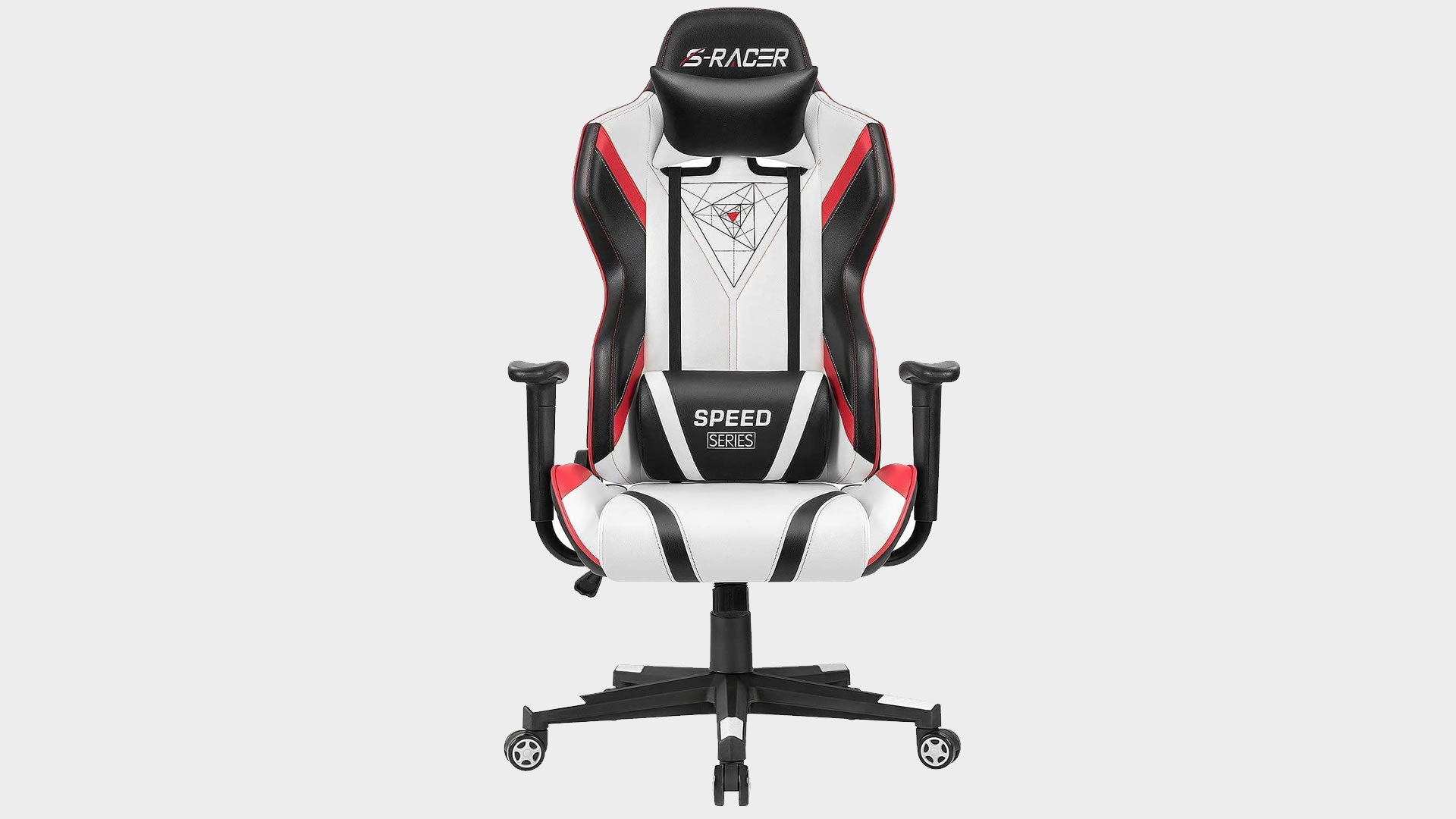 There's no accounting for taste, but we think that the Homall S-racer looks particularly fetching with its embroidered back design and multi-color aesthetics. It's also adorned with prominent colored stitching all around the edges and lengths of it, which is a noteworthy touch we have enjoyed in more expensive chairs in the past.
The racing-style seat here ensures that you're suitably secure without the feeling of being hemmed in, or pinched in the sides, which would otherwise prove uncomfortable over long periods. 
The Homall S-racer is also forged from a 1.8mm steel frame and high-density foam over synthetic leather, meaning it should last through many play sessions to come. Given that this chair retails around $105, there isn't much more you can ask from it for the money. 
Now, if you're more interested in getting the best gaming chair deals on the more traditional high-end models (as made by Secretlab, Razer, Corsair, Andaseat, etc.) then these are the best deals on some of our favorite models around.
Latest gaming chair prices – pedestals & rockers
We've mostly been focusing on the office/ergonomic style gaming chairs. That's not to say we don't have good things to say about pedestals, too. If you mostly play on console, or prefer something with a little more action to it, here are some of the best deals on some truly rocking pedestal gaming chairs.
---
Kit out your setup in style with the best gaming keyboards, best gaming monitors, and best gaming desks.