With three new flagship phones and three new flagship tablets unveiled, this was one of the biggest mobile events of the year, certainly for Samsung. But the price of electronics has gone haywire over the last couple of years, so not to take away from the excitement over the new upgrades, but this is an important question – how much?
The answer can be quickly summarized as "the same as last year" if you live in the US, the UK or the EU.
We have compiled pricing information for the Galaxy S22, S22+ and S22 Ultra in the table below:
US
Galaxy S22
Galaxy S22+
Galaxy S22 Ultra
8/128 GB
$800
$1,000
$1,200
8/256 GB
–
12/256 GB
–
–
12/512 GB
–
–
Europe
Galaxy S22
Galaxy S22+
Galaxy S22 Ultra
8/128 GB
€850
€1,050
€1,250
8/256 GB
€900
€1,100
–
12/256 GB
–
–
€1,350
12/512 GB
–
–
€1,450
1 ТB
–
–
€1,650
UK
Galaxy S22
Galaxy S22+
Galaxy S22 Ultra
128 GB
£770
£950
£1,150
8/256 GB
£820
£1,000
–
12/256 GB
–
–
£1,250
512 GB
–
–
£1,330
12 GB/1 TB
–
–
£1,500
Pre-orders start today, the phones will ship from February 25. Like previous launches, you can trade in a couple of old devices to get credit towards buying a new phone. There are tie-in deals too, like a 25% discount on a Tab S8 if you buy an S22 phone, as well as Samsung Credit towards certain accessories. Check your local Samsung.com for details.
By the way, the official Samsung store has exclusive colorways for the S22 trio, so have a look at those before buying from a third-party store.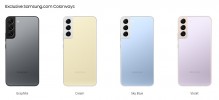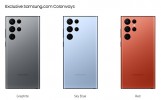 Samsung.com exclusive colors: Galaxy S22 • Galaxy S22+ • Galaxy S22 Ultra
The S-phones are not new only high-end Galaxys to be unveiled at today's event, Samsung also brought three flagship tablets: the Galaxy Tab S8, Tab S8+ and Tab S8 Ultra. Base prices are comparable to last year, though storage upgrades and the optional 5G connectivity now cost more.
Below is a table with the prices for the tablets with and without 5G:
US
Galaxy Tab S8
Galaxy Tab S8+
Galaxy Tab S8 Ultra
From
$700
$900
$1,100
Europe
Galaxy Tab S8
Galaxy Tab S8+
Galaxy Tab S8 Ultra
8/128 GB, Wi-Fi
€750
€950
€1,150
8/256 GB Wi-Fi
€800
€1,000
€1,250
512 GB, Wi-Fi
–
–
€1,450
8/128 GB, 5G
€900
€1,100
€1,300
8/256 GB, 5G
€950
€1,150
€1,400
512 GB, 5G
€1,600
UK
Galaxy Tab S8
Galaxy Tab S8+
Galaxy Tab S8 Ultra
8/128 GB, Wi-Fi
£650
£850
£1,000
8/256 GB Wi-Fi
£700
£900
–
12/256 GB, Wi-Fi
–
–
£1,100
16/512 GB, Wi-Fi
–
–
£1,250
8/128 GB, 5G
£800
£1,000
£1,150
8/256 GB, 5G
£850
£1,050
–
12/256 GB, 5G
–
–
£1,250
16/512 GB, 5G
–
–
£1,400